Amazon Pay-Per-Click (PPC) advertising reports are a valuable tool for understanding how customers interact with ads and where to improve the performance of your campaigns. By reading and interpreting these reports, you can make data-driven decisions about which keywords to bid on, which keywords to put into your Amazon product title and bullet points, and how to maximize your return on investment. Knowing how to read and use Amazon PPC
You can run different reports on each Amazon ad category each provides valuable information on new business opportunities as well as how to lower your Amazon-Cost-Of-Sale (ACOS) and increase your Return-on-ad-spend (ROAS).
List of Report Types available for each Amazon ad Category
| | | |
| --- | --- | --- |
| Sponsored Products | Sponsored Brands | Sponsored Display |
| Search term | Keyword | Campaign |
| Targeting | Keyword Placement | Targeting |
| Advertised products | Campaign | Advertised Products |
| Campaign | Campaign Placement | Purchased products |
| Budget | Search Term | Matched target |
| Placement | Search Term Impression Share | Gross and Invalid traffic |
| Purchased products | Category Benchmark | |
| Performance over time | Attributed Purchases | |
| Search term impression share | Gross and Invalid Traffic | |
| Gross and Invalid traffic | | |
Where to find your Amazon PPC report on your seller central portal?
On Amazon seller central top menu go to report and in dropdown, you will see "Advertising Reports" then click the "Create Report" button.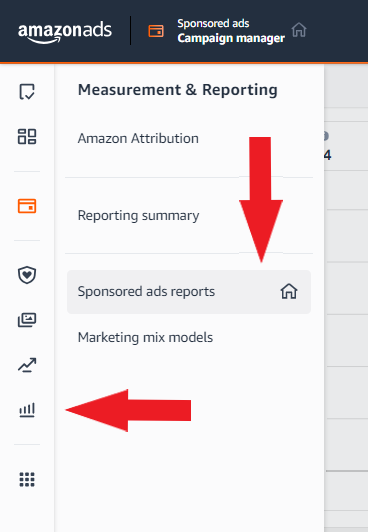 After you click the create report you will get the report configuration screen where you select the report-category, report-type, time frame, and other settings and click run-report on top right hand corner.
List of all Amazon PPC Reports explained
We start out the list with the most frequently used reports
Amazon Search Term Report
The Amazon search term report gives you the exact search keywords customers used to find your Amazon sponsored products.
It will provide you with data like Targeting, Customer search terms, Match Type, Impressions, Click-Thru-Rate (CTR), Cost-Per-Click (CPC), Spend, 7 Day Total Spend, Total Advertising Cost of Sales (ACOS), Total Return on Advertising Spend (ROAS).
The Amazon search term report is used by Amazon sellers to optimize and fine-tune their Amazon campaigns' keyword target list, by adding good performing search terms as keywords or negating low-performing ones.
It's a very important report that Amazon sellers should review weekly and take action accordingly, We as an Amazon PPC agency constantly review this report to get the optimal results for our clients.
Amazon Targeting Report
The Amazon targeting report helps sellers on the Amazon platform to understand how their advertising campaigns are performing.
The report provides data on the performance of specific keywords, products, and ad groups, and helps sellers to identify which areas of their advertising strategy are working well and which may need improvement. By analyzing the data provided in the targeting report, sellers can make decisions to adjust their bids on keywords increasing the bids on good performing keywords and decreasing for low performing keywords.
Amazon Keyword Report
The Amazon keyword report is the same as the Amazon Targeting report but for sponsored brands ads, and just like the targeting report you use the data to increase or decrease your keyword bidding. it gives you the search terms that shoppers used to find your product on Amazon. It shows how many clicks and conversions each keyword is generating. With this information, you can optimize your product listing to improve your rankings and increase sales.
Amazon Advertised Product Report
The Advertised Product Report gives your sales and performance data on all your Amazon ASIN's. It will give you data on which ASIN had the most impressions, clicks, and sales. The report gives you the data by campaign and group name. You use this report to take a deep dive into your Amazon products on the SKU level.
Purchased products report
Amazon's purchased product report will give a list of your non-advertised Amazon products that customers purchased after clicking on a paid sponsored impression.
In other words, the customer clicks on your sponsored product listing but ends up buying a different product of yours that is not on a paid campaign.
Report data is available for past 60 days
Amazon Search term impression share report (STIS)
Amazon's Search term impression share report (STIS) gives you keywords impression percentage based on all your competitors
For instance, if your keyword is "potato peeler" it will tell you the percentage of times your ad appeared for this keyword
Report data is available for 65 days.
Amazon Placement report
The Amazon Placement Report is an invaluable tool within the Amazon advertising reporting suite that offers detailed insights into the performance of your Amazon sponsored ads according to their placements on the page. It's a report that shows you where your ads are appearing on Amazon and how they're performing in those specific locations.
There are three primary placement groups detailed in the report:
Product Pages: This includes ads that appear on Amazon product detail pages, and other similar product-focused spots such as "add to cart" pages.
Top of Search (First Page): This placement is very prominent as it includes ads that appear in the first set of results on the first page when a customer performs a search on Amazon.
Rest of Search: This includes placements other than the top of search on the first page. Ads that are displayed on the second page of search results and beyond, or below the fold on the first page.
The Placement Report gives you access to a plethora of useful data such as impressions, clicks, click-through rate (CTR), cost-per-click (CPC), orders, sales, and total spend for each specific placement group. The advantage here is the capacity to analyze how different placements are influencing campaign performance.
For example, if your ads perform significantly better at the top of search results, it might make sense to adjust your bids or strategies to secure these spots more frequently. Conversely, if you're not seeing a satisfactory return on investment from ads placed on product pages, you might choose to shift your focus elsewhere.
The Placement Report allows you to strategize effectively, allocate your ad spend wisely, and optimize your Amazon campaigns based on actual performance data. Whether you're a small Amazon business or a large corporation, understanding the metrics provided by this report can significantly contribute to improving your advertising performance on Amazon.
Report data is available for past 60 days
Campaign placement report
Campaign placement report is the same as placement report but for your sponsored Brand campaigns
Report data is available for past 60 days
Keyword Placement
The Amazon keyword placement report is used to get keyword performance data per placement type for your Amazon-sponsored-Brand ads
Amazon Campaign report
The campaign report gives you the overall performance of your Amazon campaigns. like budget, sales, conversion, etc. You can see which campaign performs best and which needs a bigger budget.
Data for Amazon campaign report is available for lifetime for sponsored products, making it a very useful report for Amazon PPC management
Performance over time report
The Amazon Performance over Time report is a much more granular report on the performance of your Amazon PPC sponsored ad campaigns. The report provides lots of metrics on your Amazon PPC campaigns, like orders, sales, fees, and much more, it can be filtered by date range, product type, and other variables.
Report data is available for past 90 days
Matched target
The Amazon-matched target report is available for sponsored display ads it tells you which ASIN's your sponsored ad appeared, and you can drill down to the product detail page.
Gross and Invalid traffic
The Gross and Invalid traffic report will give you the percentage rate of invalid impressions and clicks compared to the overall campaign performance. it will give you the gross impression and clicks and what percentage of that is invalid
Primarily invalid traffic is generated by bots. Amazon can detect this and flag it as invalid and will not charge you for this.
This report is available for all Amazon ad types, Sponsored Products, Sponsored Brand, and Sponsored Displays.
Category Benchmark
The category benchmark tells you your impression share of your Amazon sponsored Brands ads per a category or sub-category
Amazon Attributed Purchases Report
This report gives you the purchase data attributed to your Amazon Sponsored Brand ads, meaning any sale that happened after clicking your sponsored ad. Sales are attributed up to 7 days post a click. The report provides you with sales data like order volume, sales amount, units sold, etc.
Budget Report
The Amazon budget report gives you the percentage of your set campaign budget spent on your Amazon PPC campaign
Conclusion
All in all, Amazon PPC reports are an invaluable tool for understanding how customers interact with ads and where to improve the performance of your campaigns. Knowing how to read and use these reports can help you make data-driven decisions that result in increased sales, reduced ACOS, and improved ROAS.