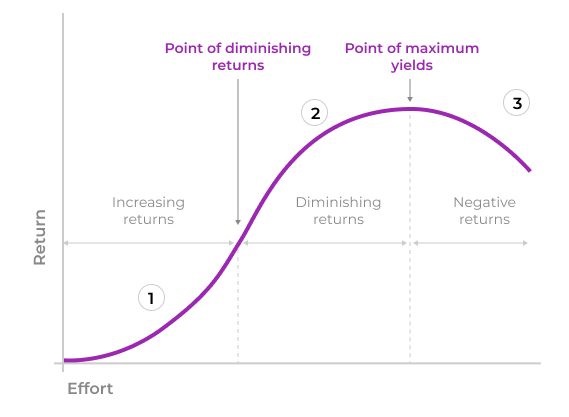 I would spend $100M a month in Amazon PPC if I could hit an Acos or Tacos of X percent.
But the fact is that just like with everything else in economics we bumped into the Law of Diminishing Returns on Amazon PPC spending as well.
Let's say you spend $100K a month on your PPC with a 10% Tacos. You might say if I spend $1M and stay at the current Tacos I can increase my business tenfold.
But it doesn't work that way.
There is an optimal number that after you reach that the "laws of diminishing marginal returns" will kick in. That means after you spend a optimal amount of money on your PPC Ad campaigns there is only so much you can do more that will result in a decent return on your Amazon product.
Let's say you have a product that is already #1 in it's category and it ranks well for its main keywords.
More PPC spending usually results in higher cannibalization of organic sales
The more you spend on higher funnel strategies the lower your return will be.
If you want to spend and push a product more, is it important to do a deep analysis and understand if there is enough juice worth squeezing.
It's important to tightly manage your Amazon PPC campaigns and perhaps even lower some PPC money from one Amazon product and place it on your other Amazon products.