Running out of stock on Amazon is a situation every seller wants to avoid. Apart from the obvious loss of sales, it can also negatively impact your product ranking due to Amazon's A9 search engine algorithm. In this blog post, we'll provide actionable advice on how to manage out-of-stock situations, focusing on the following four points: 1) Try to never run out of stock, 2) What to do prior to running out of stock, 3) What to do while being out of stock, and 4) What to do when the product returns in stock.
Always strive to avoid running out of stock
The key to preventing stockouts on Amazon is investing in a robust inventory management system. Stay proactive and use the data provided by these systems to anticipate and address any potential inventory issues before they become a problem.
What to do prior to running out of stock on Amazon
If you notice that your Amazon stock is running low, there are two primary approaches you can take: 1) Slow down velocity to maximize profit, or 2) Leave everything as is.
1) Slow down your sales velocity to maximize profit by:
– Raising your price
Pros: Slows down organic sales volume, extending stock life and increasing profit margins.
Cons: Reducing organic sales volume can negatively impact product ranking and Amazon Best Seller Ranking (BSR).
– Stop your Amazon PPC
Pros: Slows down paid sales volume, extending stock life and increasing operating profits.
Cons: Reducing sponsored ad sales might also reduce product ranking, though potentially less so than reducing organic sales.
2) Leave everything running as is
Pros: Maintains high ranking until out-of-stock, minimizing any potential ranking penalties.
Cons: Increases the likelihood of running out of stock sooner and losing out on the short term profit.
What is the right approach to take? As you saw there are pros and cons to both approaches. IG PPC ran a poll on LinkedIn on this topic, and below are the results.
What to do when you are out-of-stock on Amazon
When your item is out-of-stock, it is important to try to minimize the affect it will have on the product's ranking. There are 3 approaches you can take.
1) Close the listing
Some claim that by closing the listing, the product will not accumulate a negative sales history in the eyes of the Amazon A9 algorithm, because the listing is not active in Amazon catalog.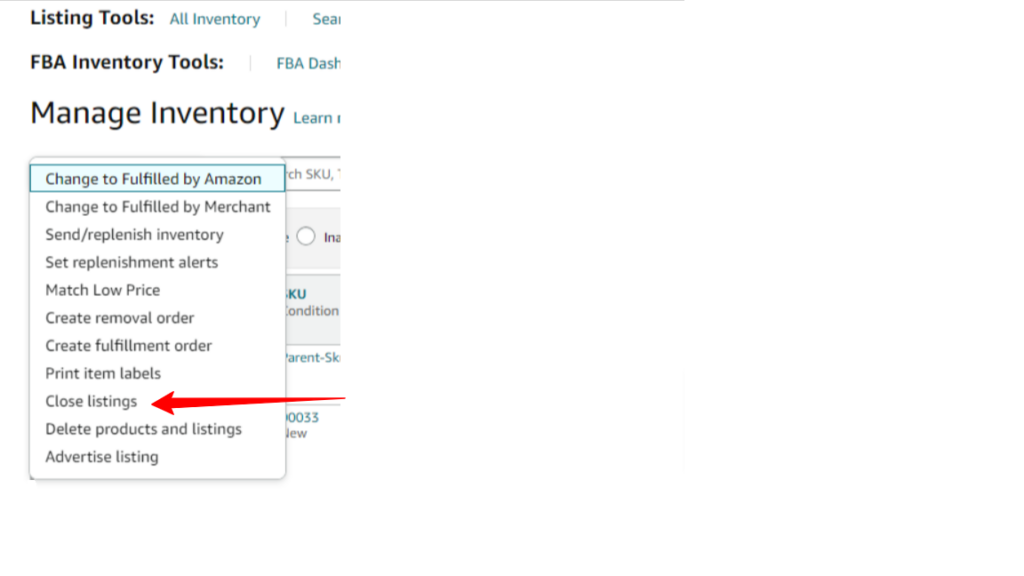 2) Suppress the listing
Instead of closing listing yourself rather let Amazon suppress the listing by breaking one of their product listing rules, like adding text to the hero image.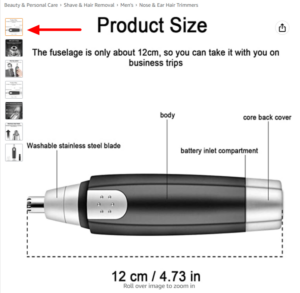 Some report that this method works even better than closing the listing because of suppression is a stronger form of getting the product out of Amazon's catalog.
Pros: By closing listing you are preventing a low CTR to your product
Cons: 1) Shoppers will not see your product. 2) Returned items from previous sales cannot be re-purchased
It's important to note that the suppressing listing methods don't always work. Some sellers have reported having success with it, and others didn't. But it doesn't hurt doing it as there is no downside to it.
3) Leave listing open
Just leave listing open, your PPC will be closed automatically by Amazon, but people will be able to see your product listing, read reviews etc.
Pros: By leaving your listing open people will still be able to find your product, compare it to the competition and maybe wait until you are back in-stock. It might also tell Amazon A9 search engine that customers are still showing interest in your product.
Cons: When customers click on your Amazon product listing and don't purchase your click trough rate will drop significantly and will lower your ranking for this since CTR is a big score how the A9 search engine configures ranking.
When your out of stock items are en-route to Amazon's warehouse – Should you use Amazons In-Stock head start program?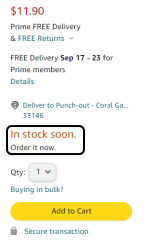 Amazon allows their FBA sellers to take advantage of a program called In stock head start. Once you notify Amazon when your item will be at their warehouse they will allow your products to be listed and purchased with an in stock soon stock status. This setting must be closed if you do not wish to take part in it.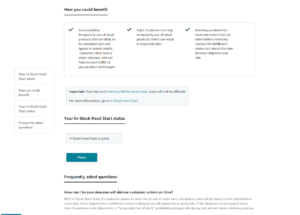 Pros: Enrolling your product in Amazon In-Stock Head Start program will make your product discoverable, while sales might be lower you want to make sure your product is seen with your competitor on Amazon listing page.
Cons: Depending on your products arrival date, sales of Amazon "In stock soon" products are significantly lower then stocked products, which may cause your items Amazon ranking to be reduced.
Many Amazon sellers will choose to allow the in stock head start switched on but will close their PPC to keep their ACOS score in check
What to do when your items returns into stock on Amazon
Upon restocking, it's crucial to monitor your product closely, as its ranking and performance may vary. Depending on the product and on how long the product was out of stock for, different products will behave differently. It's important to keep a close eye and to make sure it is picking up the momentum it had prior to going OOS.
Treat it as a new product launch. Double down on PPC and decrease the price if necessary in order to gain the momentum back.
Look at your organic keyword tracker and see where the main keywords are ranking now and where they were ranked prior to going OOS. Increase PPC on the keywords you want to regain ranking.
If you see the product picking up nicely and it's regaining the momentum, you could adjust PPC and pricing to the regular.
Conclusion:
Running out of stock on Amazon can be a challenging experience for sellers, but by following the advice outlined in this blog post, you can minimize its impact on your product's performance and ranking. Stay proactive, make informed decisions, and continually monitor your inventory to ensure your Amazon business remains on track.